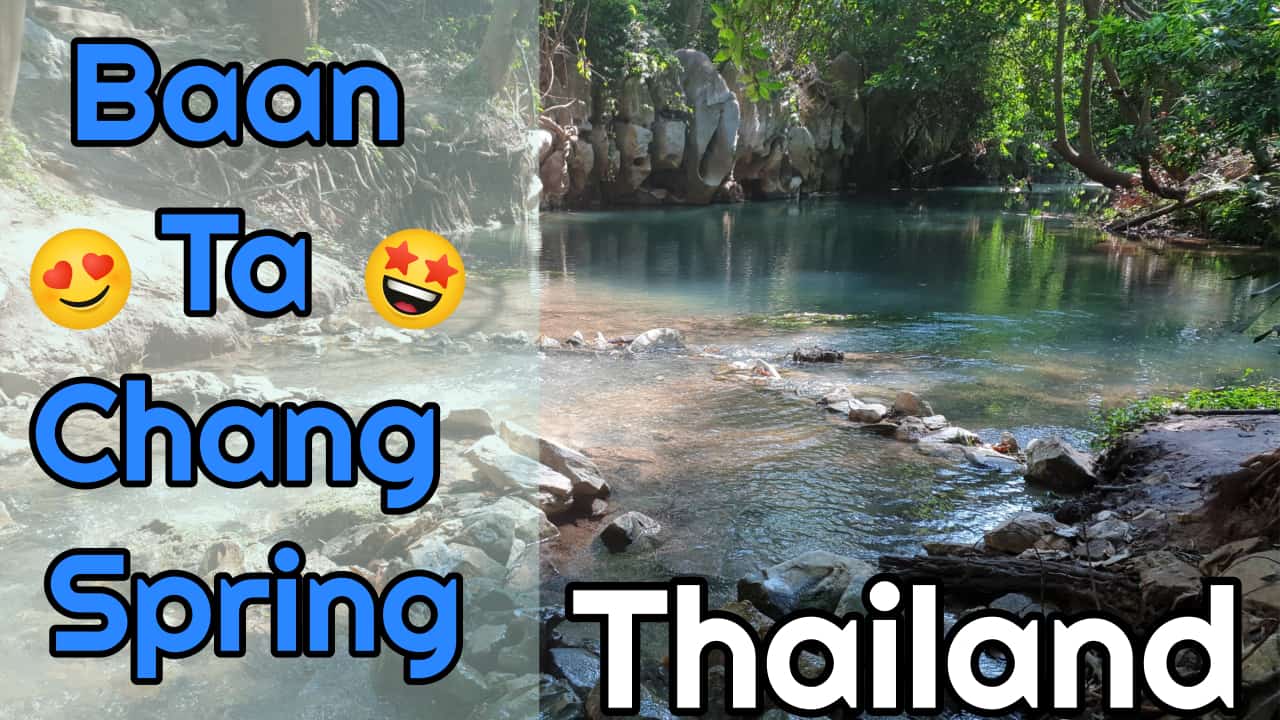 Baan Tha Chang Spring is located in Khao Yai, in the district of Pak Chong Nakhon Ratchasima Province in Thailand. It is very close to the road, and that makes it perfect for a stop over while traveling in Thailand.
Cold Spring with Clear Water
The Baan Tha Chang Spring is not a hot spring, but a spring with clear water coming out in a number of small ponds with rocky bottoms. While visiting the area, we noticed no one swims over to the edge of the small waterfall. Most people swim in the first pools.
The water at Baan Tha Chang Spring is cold even during the hot season, and there are trees around the spring, cooling the ponds and pools. If you visit during the Thailand cold season around December to February, the water will be quite cold. In the afternoon, the water tends to be a bit warmer but there is a constant flow of fresh water coming from the spring cooling it down.
You can get snacks and normal Thai food at the parking lot. There are many people who set up shop during the day to sell to those who come to visit the Baan Tha Chang Spring in Thailand. 
Entrance for Baan Tha Chang Spring is Free
On the weekends and holidays the Baan Tha Chang Spring is a very popular place for locals to take a bath. It is a hotspot for locals and Thai tourists alike. Since Baan Tha Chang Spring is not far away from Khao Yai center it is easily accessible from Korat.
It can be very crowded with Thai locals, so try to visit Baan Tha Chang spring early in the day. The entrance for Baan Tha Chang Spring is free, however they might charge for parking. With that said, we arrived very early in the day, and nobody was there to charge us anything for parking. If you want the place for yourself you should try to visit the spring on a weekday, and not on a weekend or Thai public holiday. 
Do not forget to subscribe and click like for more videos! 
Location of Baan Tha Chang Spring
Baan Tha Chang Spring opens at 8AM and closes at 5PM all days of the week. Not sure who will close it, or what will happen if you swim at night, as it is an open place without walls or fencing. Nonetheless, the sign on site says that Baan Tha Chang Spring closes at 17.00 or 5PM.
It's easy to find, but it's a small place just close to the road, so it's easy to pass it and the road is not good for U-turns drive slow and look for parking.
Here is a Google Map location of Baan Tha Chang
Safety of Baan Tha Chang Spring
There are no large fish, or other dangerous big animals in the Baan Tha Chang Spring water, and it is safe to swim. The rock bottom does not have any sharp edges, though note that there are slippery rocks. If you decide to sit and not swim make sure you look out for the mosquitoes since it is a perfect place for them with water and shady trees.
There are signs here at the Baan Tha Chang Spring that say, "No food," and, "No pets," however, nobody really cares about it since there is no security to enforce the rules. Just be sure not to leave a mess behind when you visit.
For more information on Baan Tha Chang Spring, please visit our social media below. You can also subscribe to my Medium account where I take up a big variety of topics from UFOs, health, and travel.